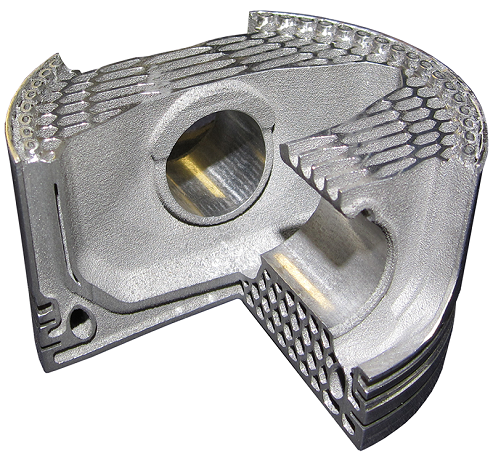 The Most Advanced Aluminum Alloy Feedstocks

Elementum 3D offers innovative gas atomized aluminum alloy additive manufacturing feedstock powders, including enhanced versions of traditional alloys, and advanced dispersion-strengthened aluminum AM powders enabled by our proprietary Reactive Additive Manufacturing (RAM) process.


Most traditional high-strength aluminum alloys are designed for wrought processing and not additive manufacturing and suffer from hot tearing (solidification cracking) if printed. Elementum 3D's RAM process inoculates alloys against hot tearing and produces an equiaxed fine-grained microstructure with exceptional properties.


RAM alloys give additive manufacturers the opportunity to 3D print better alloys that are suitable for more types of components. RAM aluminum alloy AM powders take advantage of chemical reactions in the melt pool to form dispersion-strengthened metal matrix composite (MMC) aluminum alloys with superior product performance, even in the most challenging environments. The RAM feedstocks are designed for optimal powder flow and stability.


Our aluminum alloy powders come in a range of formulations, sizes, and shapes for use in:
Laser powder bed fusion (LPBF) additive processes, also referred to as selective laser melting (SLM) and direct metal laser sintering (DMLS).
Blown powder directed energy deposition (DED) processes.
Other leading powder additive manufacturing processes.

Elementum 3D offers a family of proven aluminum alloy feedstocks together with AM processes and printed property data. We also formulate and test new innovative aluminum alloy AM powder feedstocks to meet client-specific property targets.
Elementum 3D's RAM Aluminum Alloy Additive Manufacturing Powders
In our patented RAM process, we mix gas-atomized aluminum alloy materials with ceramic particulates to deliver aluminum alloy powders with higher performance than unmodified, off-the-shelf varieties.
Our advanced RAM alloys can make all the difference for aerospace, automotive, and military manufacturers that need to reliably 3D print their aluminum-based structural parts. Our patented RAM process enables alloys with characteristics including:
Improved thermal stability.
Increased strength at low and high temperatures.
Excellent fatigue resistance.
Extreme wear resistance.
High thermal conductivity.
More Information on RAM and MMCs
Our reactive additive manufacturing (RAM) technology utilizes exothermic chemical reactions to synthesize product materials during the additive process to improve printability and properties.
The RAM process enables formation of advanced metal matrix composites (MMCs) that combine a continuous metal matrix and high strength reinforcing ceramic or intermetallic phases. This approach enables printing of materials with unique and advantageous combinations of ductility, strength, toughness, stiffness, fatigue resistance, and high-temperature performance.
The MMC formulations can be customized by varying the type and fraction of reinforcement materials and the alloy of the metal matrix.
Thanks to the RAM process, many previously un-weldable and therefore unprintable aluminum alloys are now available for metals 3D printing as feedstock powders with excellent printability, processing flow, and spreadability.
Elementum3D is a reliable source of high performing aluminum alloy additive manufacturing gas-atomized powders.
AM Powder Research & Development Services
Our team of additive manufacturing materials experts also provides materials and application development guidance for our customers. We design and test new varieties of aluminum alloy powders based on a customer's requirements to develop feedstocks and their 3D printing processes to meet these needs. We also provide application development services to qualify robust, high-yield, and cost-effective processes with highly reliable part performance.