August 2022


Army & Navy STTR Phase I projects kick-off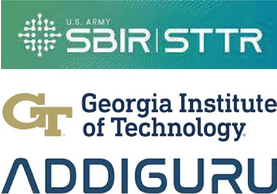 Elementum 3D recently began work on an Army STTR project that partners with Georgia Tech and Addiguru to improve the reliability of large-format cold spray additive manufacturing (AM). Cold Spray AM offers extremely high deposition rates with the ability to produce large-scale components. With more precise monitoring and control of the deposition process, denser, more dimensionally accurate parts can be achieved to reduce the post-processing time and costs.
With improved process feedback and control, this project intends to demonstrate cold spray additive manufacturing as a highly capable method for producing needed parts near the battlefield or at the point of use, reducing the logistical burden and improving readiness compared to having central storage and transportation of replacement components.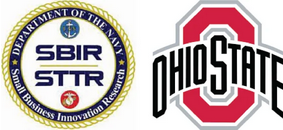 In a second project, Elementum 3D is working on a Navy STTR contract in collaboration with Ohio State University's Center for Design and Manufacturing Excellence. This project is focused on development of a robust and reliable additive manufacturing and post-processing workflow for printing high-power, vacuum electron devices (VEDs) and radiofrequency (RF) components from a heat dissipating and corrosion resistant copper-nickel alloy. VEDs and RF waveguides and other components are often complex to produce, requiring manual bending and joining processes.
Successful additive manufacturing of these components will allow for faster, more economical production and innovations in printing complex assemblies and networks of components with improved performance.
Ursa Major partners with Elementum 3D to increase propulsion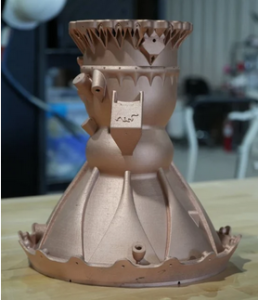 Rocket propulsion manufacturer Ursa Major and
Elementum 3D have more in common than having their headquarters in Colorado, they both strive to build the highest performing components using additive manufacturing (AM) technology. This unified desire was put to the test when Ursa Major challenged themselves to create a more sustainable copper combustion chamber to support the U.S. propulsion industry.  
Ursa Major partnered with Elementum 3D to print a copper alloy combustion chamber that would be lighter, more reliable and with better engine performance. They relied on Elementum 3D's expert knowledge of their proprietary copper materials and printing processes to effectively print a chamber that would allow for increased propulsion.
Working in tandem with Elementum 3D proved to be the right choice for this project. Our intimate understanding and proficiency in printing quality copper components made it possible for Ursa Major to 3D print their next-generation combustion chamber out of copper. Advancements in propulsion systems like this project are the key to a sustainable aerospace industry and it's nice to know that Colorado companies remain at the forefront.

Let's get connected and inspired together at IMTS 2022
Elementum 3D is pleased to announce our attendance at 2022 IMTS – The International Manufacturing Technology Show, the largest and longest-running industry trade show in the Western Hemisphere. As usual, the show will be at Chicago's McCormick Place in Chicago, Illinois, September 12-17.
You can find our team of additive manufacturing (AM) materials experts at exhibition booth 433128, located in the West building, level 3. They are ready to guide attendees towards the right material to take their revolutionary part designs and application concepts to production or educate them on how advancements in AM materials and processes are enhancing the modern manufacturer's ability to overcome production challenges, improve part quality, and reduce the cost and time to market.
We look forward to seeing you on the show floor!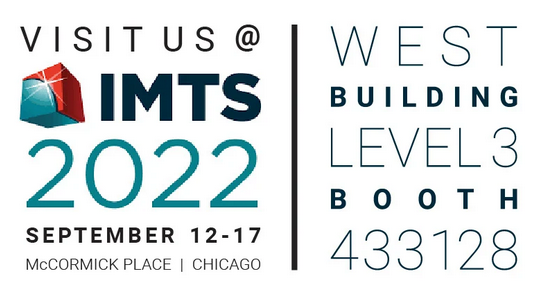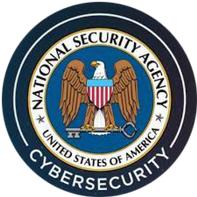 Cyber security initiative update
Elementum 3D continues to put the utmost importance on protecting the confidentiality, integrity, and availability of information and data. As part of this ongoing priority, Elementum 3D has proactively enrolled in a National Security Agency (NSA) program offered to the US Defense Industrial Base to perform vulnerability scanning to assess our networks and systems for vulnerabilities and facilitate security improvements where applicable. Elementum 3D values the confidentiality of data in our possession and strives to meet and exceed compliance requirements.

Corporate culture grows in the mud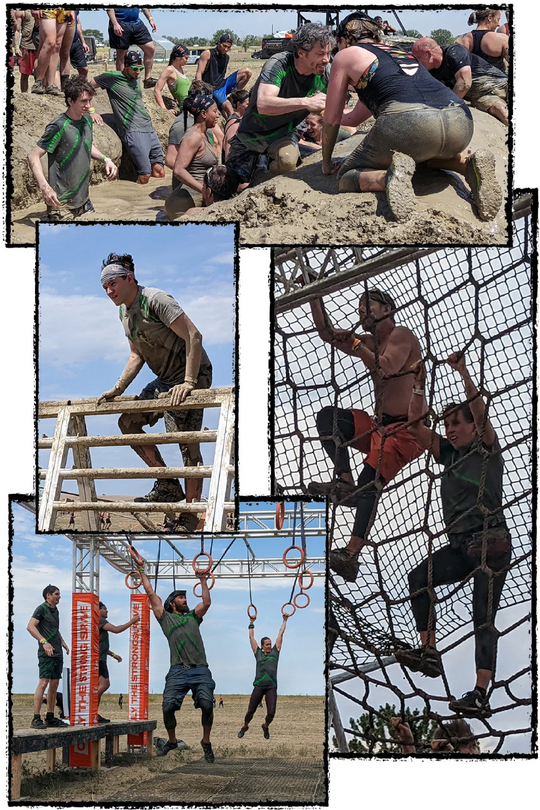 On July 24, Elementum 3D employees teamed up to test their limits physically and mentally at the "Tough Mudder" event located in Byers, Colorado. This was the third straight year the "Elementum 3D TOUGH" team has crossed the muddy finish line.
The Tough Mudder is more than just a grueling 10-mile course with 25 uniquely challenging obstacles, it is our annual teambuilding outing. Completing the muddy event together certainly tested everyone's stamina, agility, and skill, but it also built connections with teammates from different departments, improved company morale, and inspired some friendly competition with every muddy step.