CeramicSpeed: $1.7K 3D printed hollow Titanium Oversized Pulley Wheels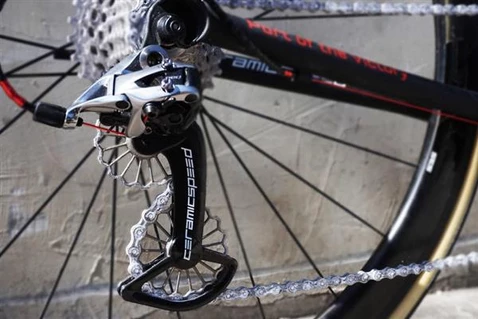 Danish bike company CeramicSpeed has just gone public with its newest luxury bike part. Created in collaboration with custom frame builder Mosaic Cycles and high-end wheel manufacturer ENVE, CeramicSpeed's new 3D printed hollow Titanium Oversized Pulley Wheel system left cycling fans salivating at the North American Handmade Bicycle Show last weekend.
For those unfamiliar with the Danish function-meets-luxury bike brand, CeramicSpeed is world renowned as a leading supplier of ceramic bicycle bearings. Founded by Jacob Csizmadia 17 years ago, the Danish company quickly made a name for itself with its unique application of NASA bearing technology to high-quality bikes geared towards professional racing.