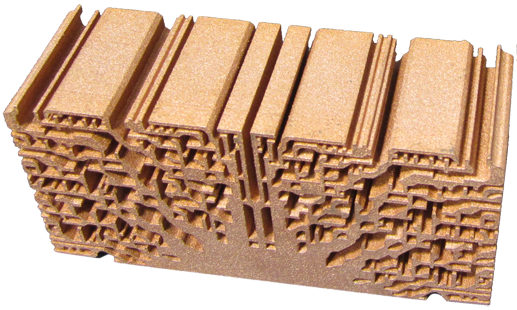 High Performance AM Copper and Copper Alloy Feedstocks
Using proprietary processes, Elementum 3D has overcome the major challenge of printing commercially pure copper powder. Our novel process functionalizes the copper alloy additive manufacturing (AM) powder to enable printing high relative density and high thermal conductivity parts on unmodified commercially available laser powder bed fusion (LPBF) AM systems.
Thanks to better melting and fusion, copper components printed with our best-selling AMCopper-100 (or with any of our other AM copper alloy powder products) we have optimized the relative density to over 98% with high thermal and electrical conductivity.
That compares favorably with other available commercially pure copper powders that can't achieve printed densities greater than 92%, resulting in a very porous printed copper component with less-than-ideal thermal management performance.
Applications for AM Copper Alloy Powders
Copper is a versatile alloy used in nearly every type of industry due to its high thermal and electrical conductivity (second only to silver among metals) along with its ductility, low chemical reactivity, and distinct color.
Copper, with its high conductivities, is a great match for 3D printing because AM is especially well suited for complex components, including electronics, wave guides, heat exchangers, heat sinks, and heat pipes.
Our copper alloy AM powders are optimized for printability and performance in 3D printing processes including:
Laser powder bed fusion (LPBF) additive processes, also referred to as selective laser melting (SLM) and direct metal laser sintering (DMLS).
Blown powder directed energy deposition (DED).
Laser Beam Melting (LBL).
Cold Galvanizing (CG).
Electron Beam Melting (EBM).
Other leading powder additive manufacturing processes.
Elementum3D is a reliable source of high-performance copper and copper alloy additive manufacturing gas-atomized powder feedstocks.
Research & Development Services
Our team of additive manufacturing experts also provides materials and application development guidance for our customers. We customize and test variations of our copper alloy additive manufacturing powders based on a customer's detailed product specifications and their 3D printing processes. We also advise them on application processes to improve reliability, yields, and component performance.