Elementum 3D acquires NXG XII 600 and enters material development agreement with SLM Solutions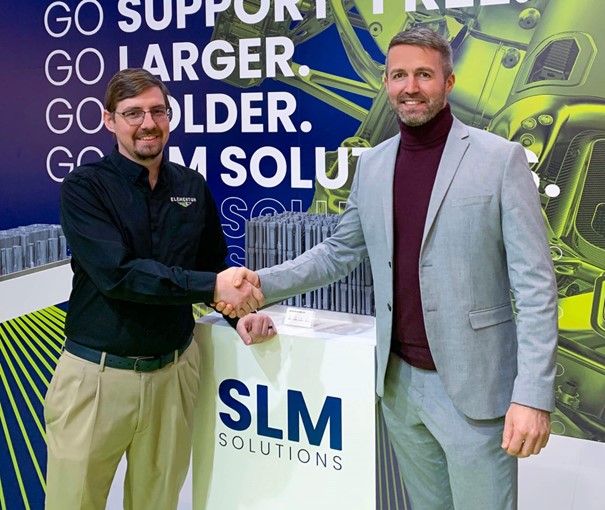 In this partnership, SLM Solutions will be further enhancing its material offering for aerospace and space customers to produce high-performance parts with high-quality alloys
Elementum 3D's high-performing alloys will be available on SLM technology as soon as 2023
The partnership expands the use of AM, increases the exposure for Elementum 3D materials, and allows SLM Solutions to rapidly expand the material portfolio for the NXG XII 600
Lübeck, Germany – November 29th, 2022. Metal-based additive manufacturing requires a need for collaboration between hardware OEMs and material providers to work together to solve for their customers' problems. SLM Solutions recently announced the record-breaking NXG XII 600E and a flexible manufacturing solution, providing an answer to some of the biggest challenges of the AM industry regarding build envelope limitation. However, the lack of material options still lingers and is key to unlocking high-performing parts with high-performance material requirements. The aerospace and space industries are eager to integrate new materials but have faced various challenges with difficult-to-print, highly sought-after, alloys that are prone to cracking. Nevertheless, they are used due to their versatility, high strength, and corrosion resistance. A real pain point for the hyperactive aerospace industry.
SLM Solutions and Elementum 3D collaborate to solve these challenges by designing exclusive aluminum alloys 2024 and 6061 or aerospace grade 7050 and 7075 for SLM® technology in 2023. In this way, both companies are teaming up to further enhance material offerings on the 12-laser technology used to print end-use parts traveling to space. Elementum 3D's RAM technology ensures safe processing and successful outcome of additively manufactured parts with these difficult-to-print materials and therefore opens completely new possibilities in terms of component size, processing speeds, and material properties.
Within the start of a joint development agreement, Elementum 3D acquired the pioneering SLM® machine NXG XII 600 from SLM Solutions, and together, both are committed to providing and developing cutting-edge technologies and materials. The objective is to create parameters and market Elementum 3D materials for use in SLM® machines, especially on the NXG XII 600. The agreement expands the use of additive manufacturing, increases the exposure for Elementum 3D materials, and allows SLM Solutions to rapidly expand the material selection for the 12-laser machine. The collaboration will give further impetus to the NXG XII 600 and leads to even more innovative, additively manufactured, high-quality parts.
"This strong partnership will enable our goal of empowering our customers to achieve theirs. It will pave a path for an enhanced material portfolio enabling better-performing applications and new business cases. We look forward to this partnership achieving new heights in AM and accelerating idea-to-production platform for our customers," says Sam O'Leary, CEO of SLM Solutions.
Jacob Nuechterlein, President and Founder of Elementum 3D, highlights the benefits of the agreement for additive manufacturing users: "We are pleased to announce this working agreement with SLM Solutions. With Elementum 3D's ground-breaking materials and SLM Solutions leadership in production-sized printers for aluminums, we can offer a full solution to organizations ready to take their ideas to production."
SLM Solutions systems are based on an open architecture strategy which allows users to have a free choice of materials, adapt parameters if required, and have a variable control on all levels to suit the customers' requirements. The lightning-fast NXG XII 600 thus paves the way to a whole new level of metal-based additive manufacturing, enabling productive part production at reduced cost per part with, now, an enhanced material portfolio.
About Elementum 3D
Elementum 3D is located in Erie, Colorado. We are an advanced additive manufacturing (AM) materials and parameters development company specializing in the commercialization and supply of groundbreaking high-performance 3D printed metals alloys, ceramics, refractories, and composites. Our goal is to radically expand the extremely limited metal AM materials library.
About SLM Solutions
SLM Solutions is a global provider of integrated metal additive manufacturing solutions. Leading the industry since its inception, it continues to drive the future of metal AM in every major industry with its customers' long-term success at its core. SLM Solutions is home to the world's fastest metal additive manufacturing machines boasting up to 12 lasers and enabling build rates of up to 1000ccm/h. With a portfolio of systems to suit every customer's needs, along with its team of experts closely collaborating at every stage of the process, SLM Solutions leads the way on return on investment with maximum efficiency, productivity, and profitability. SLM Solutions believes that additive manufacturing is the future of manufacturing and has the desire and capability to take its customers there – right now.
SLM Solutions is a publicly-traded Company headquartered in Germany, with offices in Canada, China, France, India, Italy, Japan, Singapore, South Korea, and the United States.
Further information is available on www.slm-solutions.com