January 2023


A2024-RAM2 fatigue properties are examined for industrial production qualification
The recent Science Direct article titled "Microstructure and Fatigue Properties of Al2024-RAM2 Aluminum Alloy Obtained by Laser Powder Bed Fusion" disseminates their fatigue testing results and findings with Elementum 3D's A2024-RAM2 aluminum alloy. Due to the consistent and equiaxed microstructure, the study found that printed A2024-RAM2 fatigue performance was only slightly influenced by build orientation.  The surface roughness was found to have a larger effect on fatigue performance with an excellent 107 cycles runout stress of 200 MPa for polished specimens and 100 to 120 MPa for as-built surfaces.
Elementum 3D's patented Reactive Additive Manufacturing (RAM) process has introduced printable high-strength aluminum alloys such as A2024-RAM2 to manufacturers interested in 3D printing light-weight parts with excellent mechanical performance (including at temperature) and good thermal conductivity.
The findings in this study continue to expand the independent publicly available data for RAM aluminums and build confidence in performance for aerospace, automotive, and defense manufacturers.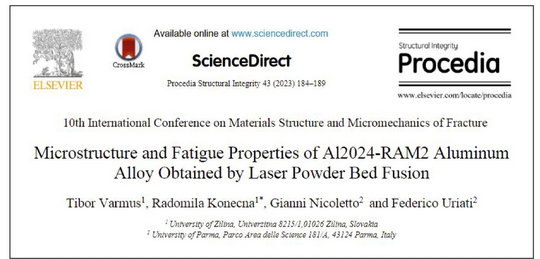 3D printed nickel alloys with superior high-temp strength & crack-free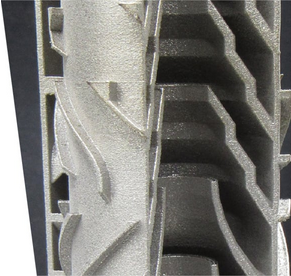 Elementum 3D has expanded its patented Reactive Additive Manufacturing (RAM) to nickel superalloy powder feedstocks. This allows us to deliver increased strength at higher temperatures through dispersion strengthening and reduction in microstructural defects, including reduced porosity and microcracking compared to the base alloy.
The current released offerings are IN625-RAM2 and Ni230-RAM1. Our material experts are also developing RAM versions of IN738LC, C276, H214, and Mar247.
RAM nickel superalloys are developed for additive manufacturing (AM) applications for industries that benefit from high mechanical strength, creep and oxidation resistance at high temperatures. Targeted industries include aerospace and power industry applications such as turbine blades and jet/rocket engines, industrial gas turbines, heat exchangers, and nuclear components.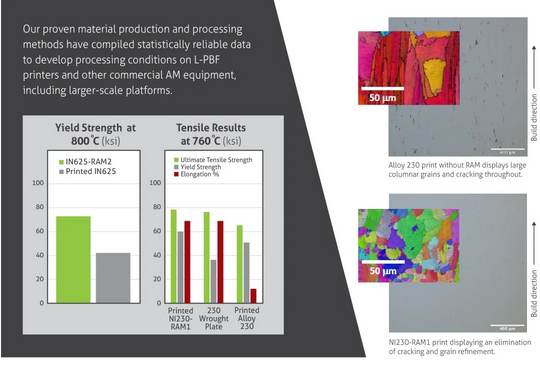 Advantages of RAM Developed Nickel Superalloys
Many AM produced nickel superalloys fail AM due to microcracking — RAM can eliminate microcracking. 
Reactive Additive Manufacturing is a patented process using in-situ reactions to produce nano scale inoculants that refine grain structure and strengthen materials. The front-page bottom micrograph displays RAM's effect on Alloy 230, by removing cracking and refining microstructure.
Elementum 3D superalloy work was funded by the National Science Foundation, Navy, and industry leaders.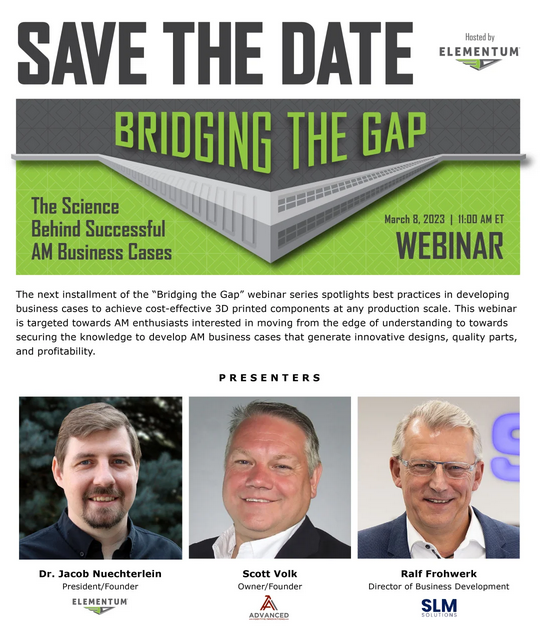 TRADESHOWS
AMUG – May 19 – 23 | Chicago, IL USA | Booth 56

SPEAKING EVENTS
TMS 2023 Annual Meeting & Exhibition (The Minerals, Metals, and Materials Society) – March 19-23, 2023  |  San Diego, California USA  |  Presentation Title: Using analytical solidification models to solve solidification cracking in laser powder bed fusion processed Ni-based alloys