July 2022


Corporate culture grows in the mud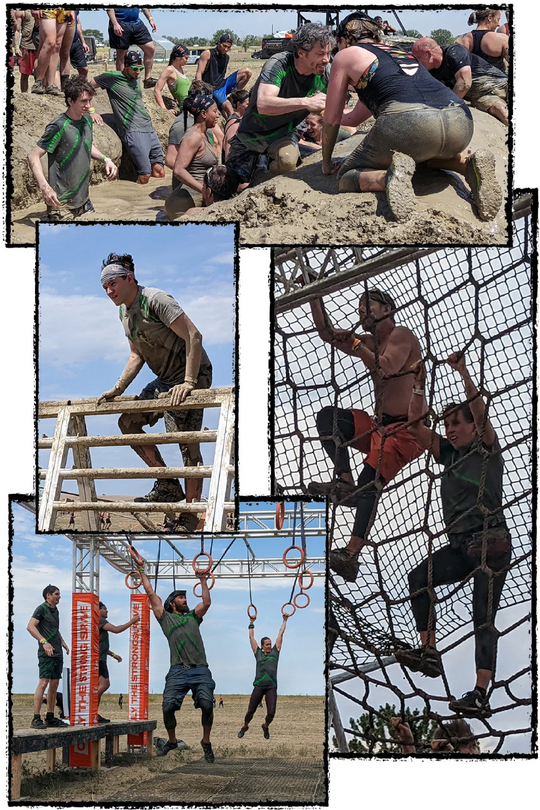 On July 24, Elementum 3D employees teamed up to test their limits physically and mentally at the "Tough Mudder" event located in Byers, Colorado. This was the third straight year the "Elementum 3D TOUGH" team has crossed the muddy finish line.
The Tough Mudder is more than just a grueling 10-mile course with 25 uniquely challenging obstacles, it is our annual teambuilding outing. Completing the muddy event together certainly tested everyone's stamina, agility, and skill, but it also built connections with teammates from different departments, improved company morale, and inspired some friendly competition with every muddy step.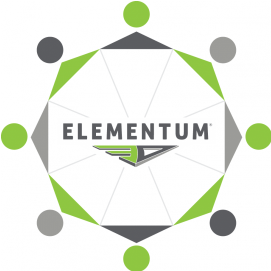 July 2021 NEW HIRES
Ryan Morningstar – Account Manager
OCTOBER 2021 PROMOTIONS
Julian Aguilar-Ricalday – promoted to application engineer
Elementum 3D Career Openings
Erie, Colorado USA  |  Full-time, $18 – $21 an hour
Erie, Colorado USA  |  Full-time, $30 – $34 an hour


New fatigue report proves A7050-RAM2 outperforms 7050 wrought
Elementum 3D's A7050-RAM2 aluminum alloy, developed specifically for additive manufacturing, recently completed room temperature fatigue testing, and is shown below together with 7050 wrought aluminum alloy MMPDS raw data. The testing on both materials was performed with a stress amplitude of R-ratio of -1 and used a testing run-out of 10,000,000 cycles for the A7050-RAM2 material. Wrought AA7050 is used for applications needing high toughness, strength, fatigue resistance, and stress corrosion cracking resistance and is used in many industries, especially in the aerospace sector. 
Fatigue testing helps determine a material's ability to withstand cyclic loading conditions. Fatigue in metals and alloys can lead to the failure of a material at stresses well below the yield point of a material through repeated loading of the material in service. The fatigue life of a material is evaluated based on how many cycles it takes for a material to fail at a given stress cycle.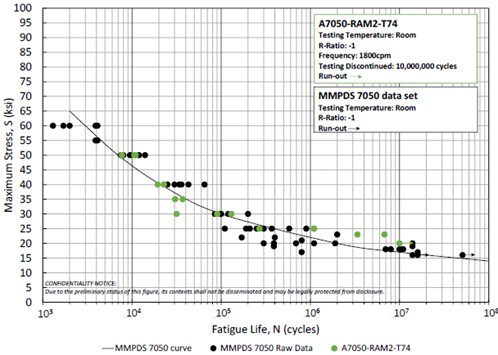 Connecting to Elementum 3D's complete materials ecosystem just got easier!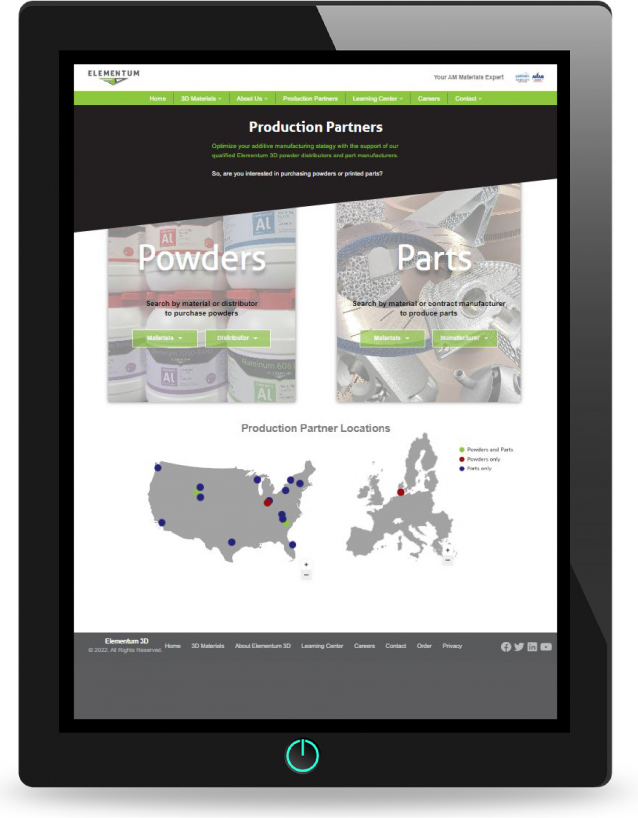 Our new interactive Production Partners webpage is constructed to simplify your search for an additive manufacturing (AM) material and a production solution. We are providing the most efficient solution for you to find, research, and purchase from one of our qualified powder distributors the perfect material for your part production, in addition to pinpointing an experienced contract manufacturer for your part production.
Our Production Partners page features two sections:
Powders – featuring friendly dropdowns which enable you to select the most qualified material for your printing initiative and distributors
Parts – featuring a list of qualified partners who are experienced and experts at printing parts with our high-performance materials
We value and respect your desire to rely on us to provide world-class AM products and direct you to turn-key parts production providers; all leading to a comprehensive and turn-key materials ecosystem. Together and with our Production Partners, we will assist you with the advancement of your innovations.