Metal additive manufacturing sector in 'pivotal' year – report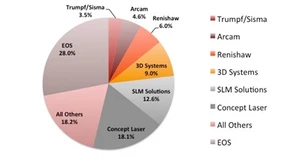 Germany-based laser systems companies dominate; annual market tipped to surpass $6 million by the mid-2020s.
The primary market for metal additive manufacturing (AM) systems and metal powder materials was worth $950M in 2016, and will storm to $6.6 billion by 2026.
That's according to a new market report by the Virginia-based industry analyst company SmarTech, whose team reckons that metal additive manufacturing is entering a "pivotal" year of change, remaining one of the strongest growth areas within the broader 3D printing sector as it matures from largely prototyping activity to series manufacturing.