Elementum 3D granted patents in US, Canada, and Australia for its core technology in metal additive manufacturing.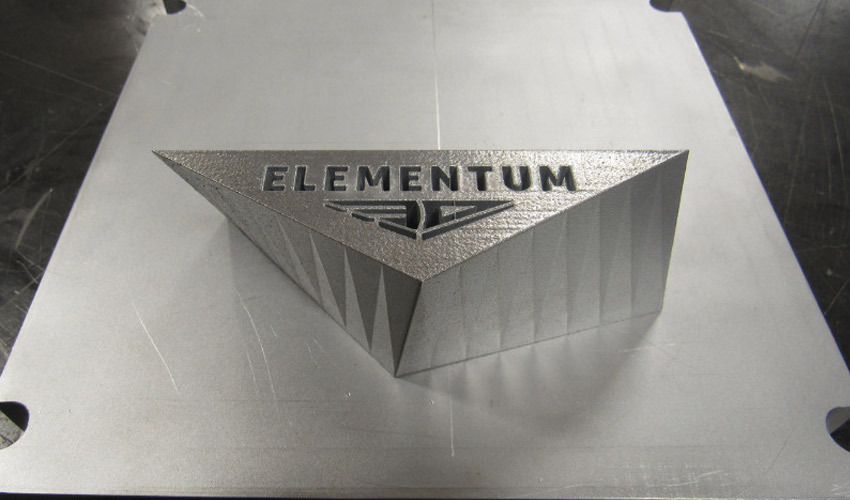 Reactive Additive Manufacturing (RAM) enables 3D printing of high-performance materials that were not previously possible.
Erie, Colorado, U.S.A., April 15, 2020 – Today Elementum 3D, a developer and supplier of groundbreaking metal additive manufacturing (AM) materials, announced the issuance of patents in the US, Canada, and Australia for their Reactive Additive Manufacturing (RAM) technology. The RAM process significantly expands the potential AM materials library by enabling printing of previously unprintable materials. Elementum 3D has used this process to introduce a family of new materials with superior properties compared to previously available AM materials and even compared to wrought alloys. The company's success in fusing additive manufacturing with both innovative new materials and desirable but previously unprintable traditional manufacturing materials has expanded the applications addressable by AM.
Elementum 3D specializes in materials and process development. This expertise is leveraged to create advanced metal alloys, superalloys, and metal ceramic composites. The company's RAM materials technology enables printing of novel advanced materials with exceptional properties.
Elementum excels in the development of custom materials tailored for any application and offers these unique feedstock powders with printing process parameters available for purchase. These existing materials can be further customized for specific applications, and in doing so, Elementum 3D provides the materials freedom to assist its customers and others in their quest to increase product strength, durability, and performance while reducing weight and cost.
The additive manufacturing industry is leading the way to Industry 4.0 and offers numerous advantages for numerous applications; however, the limited selection of printable metals materials has limited widespread adoption. "Elementum 3D's technology is a game changer for the advancement of metals development in additive manufacturing. It's giving engineers the extra degree of freedom they have never experienced, inspiring them to bring into existence new and innovative applications," said Dr. Jacob Nuechterlein, President and Founder.
Elementum 3D has utilized RAM technology to introduce a family of printable high-performance aluminum alloys based on established wrought alloys including aluminum 1000, 2024, 6061, 7050, and 7075 products. Popular high strength wrought aluminum alloys suffer from hot tearing and could not previously be used with AM. The RAM technology is used to form sub-micron sized inoculants in situ that nucleate a fine equiaxed grain structure and for printability and exceptional performance. By making AM versions of these alloys widely available for all AM users, Elementum 3D is eliminating any materials compromise and democratizing materials freedom.
About Elementum 3D
Erie, CO-based Elementum 3D was founded by Dr. Jacob Nuechterlein in 2014. Elementum 3D's mission is to significantly expand the selection of metals additive manufacturing materials by introducing advanced metal alloys, superalloys, and composites, optimized printing processes, performance data, and provide expert guidance to save time, money and reduce AM frustration. Find Elementum 3D on the web at elementum3d.com.