March 2018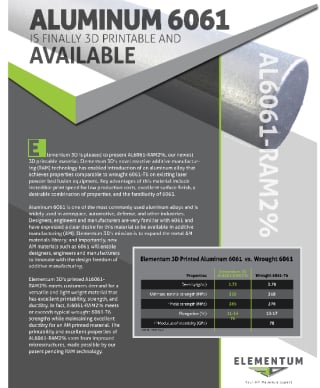 Aluminum 6061 is now available!
Elementum 3D is pleased to present AL6061-RAM2%, our newest 3D printable material. Elementum 3D's novel reactive additive manufacturing (RAM) technology has enabled introduction of an aluminum alloy that achieves properties comparable to wrought 6061-T6 on existing laser powder bed fusion equipment. Key advantages of this material include incredible… Read more
---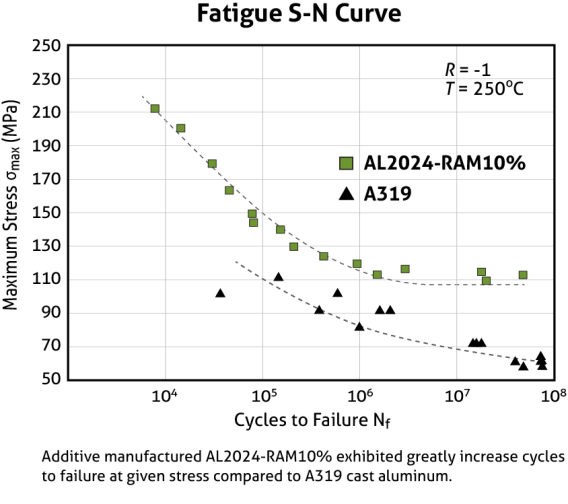 Fatigue testing is critical to determine a material's ability to withstand cyclic loading conditions over time. Elementum's AL2024-RAM10% recently completed elevated temperature fatigue testing at 250°C with exceptional performance compared to other aluminum alloys available for AM and also compared to cast and wrought aluminum alloys. At a stress level of 110 MPa, AL2024-RAM10% achieved excellent durability with 50,000,000 cycles. In fact, the 250°C fatigue behavior of Elementum 3D's additively manufactured AL2024-RAM10% is significantly better than A319 cast aluminum that is often used for elevated temperature engine components. Demonstrating the excellent fatigue resistance of AL2024-RAM10% gives engineers the confidence to design for new material options.
Special thanks to AM Metals for providing fatigue testing results.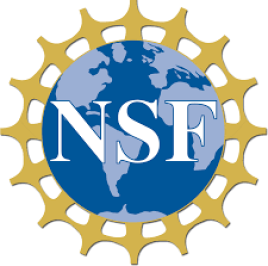 Elementum 3D is awarded NSF Phase II grant
We are thrilled to announce the award of $750,000 from the National Science Foundation (NSF). The award comes as an initiative for the NSF aimed at optimizing the use of additive manufacturing and nanotechnology. The grant will be used to accelerate the development and commercialization of a nickel superalloy metal matrix composite (superalloy-MMC) feedstock and parameter set for additive manufacturing. Our goal for developing superalloy-MMC is to fill the market need for an advanced 3D printed material suitable for… Read more (Link no longer available)
---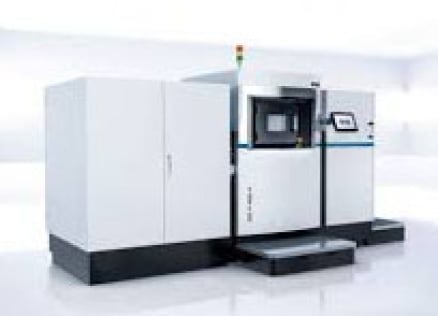 An EOS M400 is on its way to Erie
The recently purchased EOS M400-1 further demostrates our commitment to deliver advanced additive materials to customers interested in printing larger and more efficient components. Adding EOS' percision M400-1 printer will expand our ability to offer our groundbreaking products and parameters to benefit the recent surge of customers looking to take full advantages of large format metal printers.
---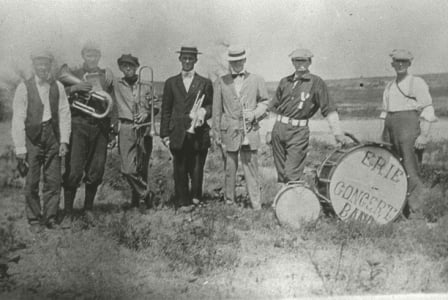 Fun facts about our hometown – Erie, CO USA
Founded in 1870, 6 years before Colorado achieved statehood.
Located about 20 minutes north of Denver
2017 population 25,000
Elementum 3D was established in Erie in October 2014
The town is almost 20 sq miles incorporated (48 sq miles planning area) and boasts 134 acres of parks. Over 10% parks!!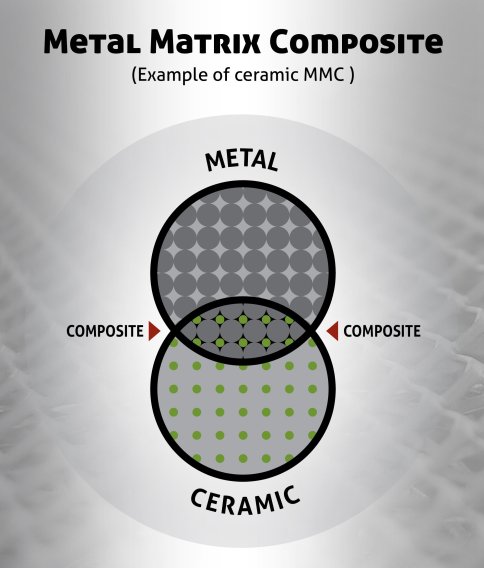 Understanding Metal Matrix Composites
Throughout history, materials have defined our technology and fueled creative thinking to solve our problems and advance our capabilities. Today, engineering materials are often classified into categories, with the four major groups comprising metals, polymers, ceramics, and composites. Metal based composite materials, known as metal matrix composites (MMCs), are one of the major innovations in materials science and engineering since the late 19th century.
Composites are materials composed of at least two distinct constituent phases. Metal matrix composites have a continuous metal matrix phase and one or more additional phases such as ceramic reinforcements. The combination of different materials can produce a unique and advantageous set of properties with the freedom to… Read more

How would access to new high-performance AM metal-based materials affect your business?
Limited availability of metal-based materials in additive manufacturing (AM) is the main factor for our existence. We believe engineers and manufacturers deserve to have the freedom to choose a specific high-performance material in AM to meet the rise in customers demand for superior products. Our goal is to provide customers with AM materials and properties they need, not just what's available.
Contact us with your thoughts on this question and we will respond to you directly


Meet our team and learn more about how and why we are passionate about developing superior metal-based materials and parameters for additive manufacturing.
OPEN HOUSE VISITS
All are welcome to drop by our Erie, Colorado facility on the second Friday of any month from 4 – 6 pm.
TRADE SHOW VISITS
April 23-26 Rapid + TCT: Fort Worth, TX, Booth #735
September 13- 16 IMTS 2018: Chicago IL, Booth #432403
October 9- 11 Aluminium 2018: Dusseldorf, Germany, Booth #10/C07
November 13- 16 FormNext 2018: Frankfurt, Germany, Booth #TBD