October 2023


TAE's Plasma Generator system optimized with the power of AM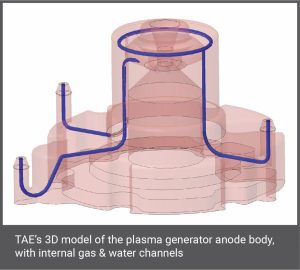 The benefits of additive manufacturing (AM) are attractive to many manufacturers, and TAE is one manufacturer taking advantage of these benefits by using AM to produce their thermomechanical components. TAE is a private company founded in 1998 based on research out of the University of California Irvine. The company develops low-carbon energy generation system based upon nuclear fusion. Their proprietary platform called Field-Reversed Configuration (FRC) combines the deepest insights of plasma physics and accelerator physics to heat and stabilize plasma.
As you can imagine, fusion platforms are extremely complex machines and there is an ongoing challenge of controlling the reliability of the hundreds of systems and thousands of components that must work together to face physics and engineering challenges. The thermomechanical components must be free of potential failure points such as welds, brazed joints, and sealed-flanges assemblies, when possible, to optimize their simple, compact design. The ideal solution for TAE to overcome these challenges was to invest their resources in the design power of AM combined with a superior material.
TAE's initial push towards AM technology was the realization they could benefit from the manufacturing process to incorporate small cooling channels into a particle accelerator grid component. Machining cooling channels is traditionally time consuming, requires a lot of costly development, and doesn't work with all materials. The TAE team learned a lot from the success of this project and decided to forge ahead with another AM project — print a Plasma Generator anode body, which is not a very complex component, but it incorporates water cooling channels and internal gas injection, plus a final brazing of a CuCrZr cap over a stainless-steel base.
Producing this component conventionally came with hefty prices and a long lead time, and it was not compatible with their project schedule. Therefore, TAE began the project by redesigning the part for AM — consolidating it to one part to remove the potential failure points and incorporating smooth curved channels and organically shaped manifolds connecting to the inlet and outlet. With the optimized design complete and approved for print production, they were ready to move to material and print process selection.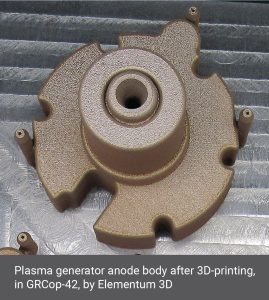 Elementum 3D was introduced to TAE by EOS, a leading laser powder bed Fusion (LPBF) printer manufacturer. A trusting relationship was quickly established between the Engineering Teams. It was an ideal combination of production and technical support for a company like TAE who needs strong industrial partners to build their components. 
"Printing the Plasma Generator anode with Elementum 3D was a great experience. Their deep knowledge of the 3D-printing process, together with a materials expertise, has given us the confidence to pursue other projects with Elementum 3D," said Vincent Pilard, TAE Project Engineer.
TAE found that the main challenge for this project was selecting the right choice of material. The Plasma Generator anode body was originally composed of two materials (CuCrZr and SS316) but it would now have only one body. TAE's first choice was to use CuCrZr, based on early-stage AM development and the experience they gained. Elementum 3D engineers proposed GRCop-42 as an alternative material, with a turn-key heat treatment (HIP) solution, ensuring high mechanical strength and thermal conductivity. After having printed and successfully measured the quality of the GRcop-42 samples, TAE decided to use this solution for all their Plasma Generator anode bodies. Since then, it's a standard material they plan to use in many applications dealing with thermal loads.
Once the testing and prototyping were complete, a successful result was achieved right away. TAE didn't see any problem with the material or the 3D printed features. After the final machining and cleaning, they assembled the part and ran several tests, and the result was the first successful printing of a 3D-printed functional part to be used in TAE's fusion experiments.
TAE reported back to us that the project met their expectations in many areas. They not only obtained a more efficient design, but by using AM, they reduced the initial cost and lead time. The transition from conventional machining to a monolithic AM build saved TAE around $10,000 per plasma generator, which includes the cost of chemical cleaning and final machining, both necessary post-processing steps for many (but not all) 3D-printed parts. Therefore, when you consider TAE's need for four or eight plasma generators per accelerator system, plus spares and test stands, it represents a cost saving of over $800,000 on their Copernicus program — just for this part! Furthermore, this project has paved the road for TAE to save time and money on many future critical parts and applications.
The other benefit they mentioned was establishing a trusted AM partnership with Elementum 3D — one that can contribute to the development of TAE's advanced designs and ensure high quality manufacturing, within a controlled time and cost frame.
Recently our TAE friends informed us that they will be advancing the design of their water-cooled accelerator grid, with the goal of printing a first prototype by the beginning of 2024.

Aluminum Association validates A6061-RAM2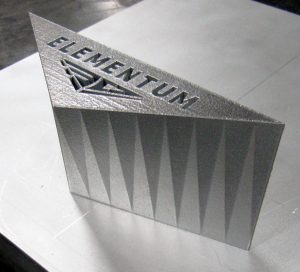 A6061-RAM2 is officially registered as alloy 6A61.50 with the Aluminum Association (AA). This is exciting news for the manufacturing community interested in 3D printing a 6061 alloy. Receiving the AA's endorsement is an assurance of A6061-RAM2's quality and printability.
The Aluminum Association is a champion of global aluminum standards and sustainability. Beyond advocating for aluminum production, suppliers to the industry, recycling, as well as value-added products, the association is actively involved in sustainability research, business intelligence, regulatory and legislative policymakers, and the general public.
For decades, AM users and proponents have desired a wider selection of reliable, high-performance aluminum-based feedstocks for AM. We are honored to lead the advancement of metal AM alloy materials with the backing of the Aluminum Association. A6061-RAM2 has been available commercially since 2018 and can be purchased on the Elementum 3D website or by emailing our sales department.
A6061-RAM2 powder to expand space travel frontier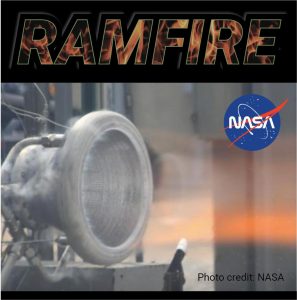 On October 20, 2023, NASA notified the world of the successful testing of a rocket engine printed with aluminum A6061-RAM2 powder (full article)(video). NASA's Reactive Additive Manufacturing for the Fourth Industrial Revolution (RAMFIRE) project has focused on advancing lightweight, additively manufactured aluminum rocket nozzles since November 9, 2020, when NASA announced the U.S. companies selected for partnership through their Announcement of Collaboration Opportunity (ACO) program. Elementum 3D was selected as one of 17 companies to rapidly mature space technologies.
The A6061-RAM2 printed rocket nozzle was developed through the collaboration of NASA engineers at Marshall Space Flight Center and Elementum 3D. The optimization of material performance and reduction of cost for large-scale complex rocket components and launch structures were accomplished through the collaboration of Elementum 3D and RPM Innovations, a blown powder directed energy deposition (DED) company.
NASA reported that the RAMFIRE Project completed multiple hot-fire tests with pressure chambers more than 825 pounds per square inch (psi). The nozzles proved to be heat resistant enough to successfully accumulate 22 starts and nearly 10 minutes of run time, demonstrating their capabilities in the most demanding deep-space environments.
NASA's collaboration with the team at RPM Innovations and ourselves is helping to increase the confidence of other aerospace companies in novel high-performance alloys and the flexibility of the blown powder-DED additive manufacturing process.
As evidence, the response from NASA's press release of the RAMFIRE success has prompted over 2.5 million direct veiws of the realease on their website, the hotfire video was NASA Marshall's most viewed video of the year and the story was picked up by more than 100 different news oulets with view counts on social media sites left to the imagination.

We hope to see you at Formnext 2023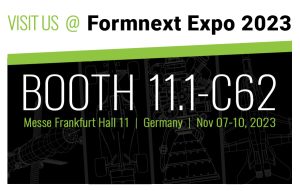 Elementum 3D will be exhibiting a new booth at Formnext, the world's leading additive manufacturing trade fair. The event will once again be located at Messe Frankfurt. Find us in Hall 11, booth 11.1-C62 on November 7-10 in Frankfurt, Germany.
This event gives Elementum 3D the opportunity to build new relationships and deepen existing ones. Our sales team and president/founder, Dr. Jacob Nuechterlein will be on-site to exchange ideas with attendees and discuss how those ideas might resonate with our technologies, products, and services.
NEW EMPLOYEES
Selena Wanser, Administrative Assistant
Branden Roscoe, Inventory Specialist/Shipping Associate
TRADESHOW EXIBITIONS
FORMNEXT: November 7-10 | Frankfurt, Germany | Booth 11.1-C62